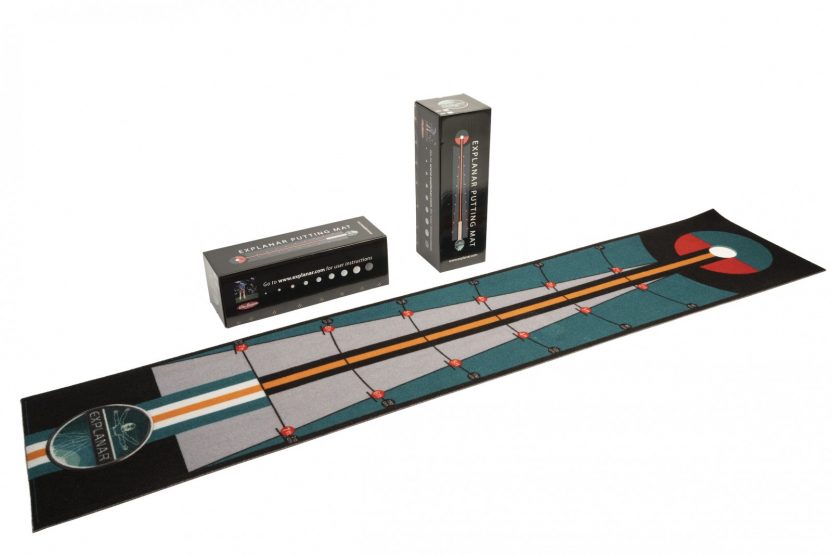 Designed by Master PGA Professional Luther Blacklock, the Explanar Putting Mat is crafted from premium materials and features a durable velour putting surface that creates a realistic putting experience that runs at 10.5 on the Stimpmeter. With a thick rubber base, it is designed to lie flat, even on slightly uneven surfaces, while eye-catching colourful graphics and high-contrast sightlines not only make putting practice fun, but also make it easy to accurately aim the putter face.
Available in 3m or 4m lengths, the mat features various visual alignment aids to improve stroke consistency and directional control and pace, with a shallow cut-out ¾-inch hole at one end which only rewards the perfectly struck putt. Ideal for personal use at home, or with guidance from a qualified coach in a studio setting, the mat can improve putter head alignment, eradicate pushed and pulled putts, improve tempo and encourage a smooth roll for better distance and speed control.

World renowned Tour coach Peter Cowen, who teaches at all levels of the game, from beginners to multiple Major winners, recommends it to his Tour players for effective practice. He said: "The clear, simple markings on the Explanar Putting Mat make it a fantastic training aid for all players. I even love to chip on it and use it most days when I'm back home at my Academy in Rotherham. Its eye-catching colours also make it great fun for kids. We use it with all our young Academy juniors."Dr Paul Hurrian, another tour-level putting coach, who runs the Quintic Consultancy, added: "The indoor surface of the Explanar putting mat gives excellent, consistent and repeatable ball roll. The clear and distinct graphics help improve visualisation and focus your aim."

The Explanar Putting Mat has an RRP of £125/£145 (3m/4m), plus £19.95 p&p. For more details or to place an order, visit www.explanar.com.